You don't have to go all out to send season's greetings. Keep it simple by selecting the most vibrant bouquet from our collection - the Sundance Rose Bouquet.

Our Sundance Rose Bouquet is the ideal way to convey your message. With its mix of colors and magic, this bouquet of mismatched fl[...]
Add To Cart
Add 8 Balloons for $42.95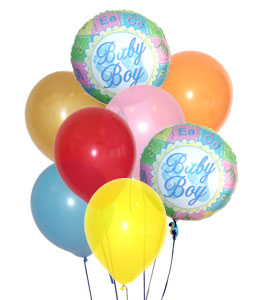 You don't have to go all out to send season's greetings. Keep it simple by selecting the most vibrant bouquet from our collection - the Sundance Rose Bouquet.

Our Sundance Rose Bouquet is the ideal way to convey your message. With its mix of colors and magic, this bouquet of mismatched fl[...]
You don't have to go all out to send season's greetings. Keep it simple by selecting the most vibrant bouquet from our collection - the Sundance Rose Bouquet.

Our Sundance Rose Bouquet is the ideal way to convey your message. With its mix of colors and magic, this bouquet of mismatched fl[...]
You don't have to go all out to send season's greetings. Keep it simple by selecting the most vibrant bouquet from our collection - the Sundance Rose Bouquet.

Our Sundance Rose Bouquet is the ideal way to convey your message. With its mix of colors and magic, this bouquet of mismatched flowers can brighten up anyone's day. Whether it's a dull room or a friend feeling down, our Sundance Rose Bouquet can bring a ray of hope and cheer them up.

For your anniversary, we've put together a gentle mix of roses to create a beautiful arrangement of cream, white, orange, and pink roses. Made with love by a local florist, you can enjoy same-day delivery. This brightly colored bouquet is the perfect way to celebrate one of the best days of your life and the journey you've shared together. With this bouquet of mismatched flowers that complement each other perfectly, you can express all the love that makes your relationship a success.

Sending best wishes and congratulating people on their journey is made easy with our Sundance Rose Bouquet. This visually stunning flower arrangement will truly mean a lot to the recipient.

If you're planning to send an anniversary bouquet, the gorgeous yellow accent flowers in our Sundance Rose Bouquet are the perfect way to express your love. Our local florists in the United States can book your Sundance Rose Bouquet in advance or prepare a fresh arrangement for same-day delivery. Send love the right way!
Item No. E9-4817
Price: $104.95